TallGrass ProCell Treatment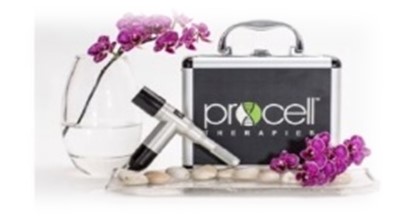 We age visibly and invisibly every day. Sun damage, internal inflammation, chemicals, and even gravity all work against the youthful vitality of your skin. As we get older, fewer regenerative stem cells survive to repair this constant damage. Procell offers cutting-edge biotechnology to induce a breathtaking transformation to the appearance and health of the skin that can last a lifetime.
Microchanneling is minimally invasive and designed to stimulate your body's own natural ability to generate collagen, elastin, and other building blocks of healthy skin. A single ProCell treatment creates thousands of microchannels in the skin's surface. In response a natural healing process initiates the formation of new collagen. Over time, this repeated healing process improves the surface texture and the overall appearance of the skin. Application of serums immediately after a microchanneling treatment enhances healing and collagen growth.
For further details click here https://www.tallgrassspa.com/services/, or give us a call at the spa. 
TallGrass ProCell and Red-Light Services
Microchanneling Only | 65-minutes | $300
Microchanneling + Red Light | 65-minutes | $350
Red Light Only (or add on) | 15-minutes | $50 (add to Refresher, Basic, Treatment or Waxing)
Red light Elevation | $30 (only used with 80-minute facial services)
Series
Series of 4: Buy 4 get the fourth one half off - $1050 | w/Red Light - $1170
Series of 6: Buy 5 get the 6th one free - $1500 | w/Red Light - $1650
Series of 6: Red Light only - $250
Facials
Fall Seasonal Service!

 October ~ December
TallGrass Holistic Facial
Holistic beauty is supported by nature. This facial hits all the high notes! Surround yourself in the beauty of TallGrass and treat your skin to the natural aromas and ingredients of Eminence Organics as you sink into this one-of-a-kind facial experience. Set your skin up for a beautiful fall with the Stone Crop Cleansing Oil, a Stone Crop or Mangosteen cleanse, and a Yam and Pumpkin and Mangosteen lactic peel. Enjoy a rejuvenating facial massage with Gua Sha or facial cupping, and the Rosehip Triple C&E or Camilla oil. Finally, finish with Eminence's glorious new products - the Bakuchiol + Niacinamide Moisturizer and Radiant Protection SPF.
*Recommended elevation: Our custom blended CBD facial serums for further healing and moisture.
65 minutes | $170 M-Th | $180 F-Su
Summer Seasonal Service!

 July ~ September
Fire and Ice Facial
Give your skin the ultimate summer treat! This 65-minute facial is filled with wonderful aromas and nourishing Eminence products. Breathe in the naturally exfoliating Blueberry Detoxifying Peel while it cleanses and tones. This peel, high in vitamins and antioxidants, has a combination of blueberry juice, raspberry juice, blackberry juice, pineapple extract, and paprika that will nourish, refresh, and warm you and your skin. You'll also experience the Menthol Rosehip Treatment. Honey moisturizes and nourishes the skin while menthol leaves a refreshing cooling sensation. This treatment is an excellent source of antioxidants and vitamin C. Your skin will be refreshed and renewed and ready for summer adventures.
65 minutes | $165 M-Th | $175 F-Su
Ultimate Facial
This comprehensive facial is customized according to your skin's particular needs on the day of your visit. We use natural products that produce visible results for a refreshed, radiant appearance. This service includes cold jade and warm river stones in your facial massage, a natural peel and décolleté treatment,  as well as your choice of a foot scrub and lotion application or a cleansing back scrub and lotion application.
80 minutes | $170 M-Th | $180 F-Su