Spa Babes
Rylie McManus
Spa Babe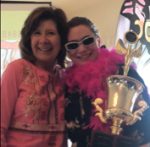 As a premier esthiology student at Denver's Aveda Institute, Rylie appeared in a student spotlight feature where she was indeed spotted – by TallGrass. Invited to interview, she was offered a job, and everything fell into place. "It was meant to be," she says. I fell in love with TallGrass." She loved the scenic location, the relaxed atmosphere, and the opportunities for continuing education.
Fast forward almost two years and Rylie has become a major team player in our skincare department. She is a hard worker, gets great reviews, and is always looking for those continuing education opportunities. "Just about my favorite thing is to learn about new products and treatments," she says. "Education is a stepping stone to becoming a better esthetician."
We're proud to count Rylie among our top team members and honor her with the Spa Babe award.
---