Spa Babes
Jaleesa Sanchez Greybull
Spa Babe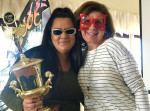 Quietly, calmly and with a manner most gentle, Jaleesa came to TallGrass three years ago and blessed us with her mellow disposition. We have watched her come into her own as she takes on big challenges, assumes managerial roles, connects with guests, and impresses everyone with her graceful spirit.
An artist with a cosmetology license, Jaleesa practices a multitude of arts. "If there something I don't know how to do," she says, "I find someone to teach me." We can't imagine what that might be because she paints, draws, designs, makes pots, sews, and creates makeup for magazine shoots, fashion shows and brides. On wedding days, an excited bridal party comes to TallGrass to rely on her for more than choosing colors and matching skin tones. With her calm demeanor, she dispels the jitters and helps everyone become beautifully relaxed.  
Jaleesa is the epitome what we strive for at TallGrass – warm and welcoming, gentle and caring.  
---