Get Outta the Dog House
at TallGrass Spa and Highland Haven Creekside Inn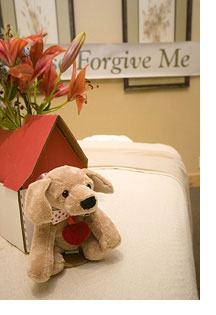 TallGrass Aveda Spa and Salon and Highland Haven Creekside Inn, both located in the foothills community of Evergreen, Colorado, are collaborating to get you Outta the Dog House with an "I love you, please forgive me" promotion.
If there is something that needs forgiving, these award-winning, luxury establishments have the means to beg your pardon.
Available now at TallGrass Spa, the Dog House Tango is a new twist on a couples side-by-side massage, raised to the forgiveness level with a cuddly stuffed dog sitting at the door of a toy dog house offering a bouquet of flowers, $10 in TallGrass Boutique Bucks, a quotation about forgiveness and a banner heralding a message of "Please forgive me" or "I love you."
"The Tango is our popular couples' massage," says TallGrass owner Gail Ridings. "Not only is it a great way to relax together, but we think it's the perfect way to say 'I'm sorry' when you need to make amends with someone special."
At the award-winning Highland Haven, an overnight stay in a premium room would be enough to soften anyone's heart. But with the Get Outta the Dog House special, those booking a premium room receive a complimentary Romance Tray consisting of Proseco sparkling wine, rich dark chocolates, and an irresistible Dog in the Dog House bouquet, an adorable stuffed puppy peeking out of a vase in the shape of a dog house, filled with fresh flowers. Who could resist?
"We specialize in romance at Highland Haven," says owner Gail Riley. "And we have seen it all, from the excitement of a marriage proposal to the warmth of a 50th anniversary celebration. We wanted to provide something special for the type of romance everyone can relate to – making up with your loved one."
The promotions can be enjoyed in combination or separately. The Dog House Tango (2 people / 65 minutes / $210) takes place in the privacy of the TallGrass Sage Room Suite complete with fireplace and secluded patio and, along with the Outta the Dog House amenities, includes a custom scented side-by-side massage, moisture-rich hand treatment and steam shower. Reservations can be made by calling TallGrass at 303-670-4444.
Highland Haven offers seven premium rooms, suites and cottages with amenities such as private decks, hot tubs, wet bars, fireplaces, lush bedding and unparalleled views. Room prices range from $270 to $360 per night. The Get Outta the Dog House promotion runs as long as there are couples looking for forgiveness.
TallGrass Aveda Spa and Salon opened in 1995 in a picturesque mountain meadow on Upper Bear Creek in Evergreen, and is consistently rated Top Spa by regional and national publications. About a 45-minute drive from Denver, TallGrass offers a complete menu of massages, facials, body treatments, hair and nail care services, boutique shopping and catered meals, along with the private Sage Room Suite which is available for couples' massages, meetings and social events. For more information, call TallGrass at 303-670-4444 or visit www.TallGrassSpa.com.
The multi-award-winning Highland Haven was named one of the nation's Top 10 Most Romantic Cottages by Sunset magazine, as well as Best Bed and Breakfast by Mountain Living magazine. The inn features 17 rooms, suites and cottages, each distinctly appointed in Colorado chic décor, designed for comfort and luxury. Known for its emphasis on customer service, Highland Haven serves a full, homemade breakfast in the Dailey Cabin, and is situated along 400 feet of Bear Creek near downtown Evergreen, only an hour away from Denver International Airport. Many of owner Gail Riley's breakfast and other recipes are featured in her book, Colorado Cravings, Recipes and Romance from the Award-Winning Highland Haven Creekside Inn (www.coloradocravings.com). For more information and reservations, call 303-674-3577 or visit www.highlandhaven.com.