We're celebrating Earth Month with a selection of activities that offer opportunities for guests and staff to support clean water for one and all.

The Aveda Walk for Water is a series of walks around the world held on Thursday, April 22, to raise awareness and funds for clean water organizations. Please join the TallGrass team as we walk from TallGrass to the Evergreen Lakehouse, a distance of just over five miles, which imitates the average 4-mile distance that many people around the world must walk each day to access clean water. TallGrass team walkers are asked to raise $100 in contributions to be donated to Western Resource Advocates. We'll meet at the Lake at 9:30 a.m. to carpool to TallGrass or at TallGrass at 9:45 a.m. for the 10:00 a.m. starting time, rain or shine. For more information and to register, call us at 303-670-4444.

Greens for Jeans is a fundraiser that benefits Western Resource Advocates. Every time TallGrass staff members make a $10 donation, they earn the privilege of wearing jeans to work for a day. Normally, jeans don't fit into the TallGrass dress code but, for the sake of our environment, we are delighted to support this exception during April.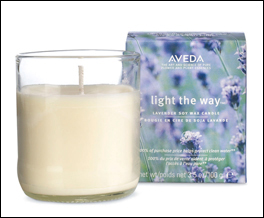 Aveda "Light the Way" Candles are 100% naturally derived soy wax, infused with organic lavender and other pure flower and plant extracts in candleholders that were once wine cooler bottles. One hundred percent of candle purchases ($12 each) fund the projects of Global Greengrants to protect water rights and water access around the world. Since 2007, your support of the annual Earth Month "Light the Way" candle campaign has touched the lives of 25,000 families worldwide. So, please, keep up the good work!

A Gift Basket valued at $300 filled with treasures from the TallGrass boutique and a selection of Aveda products along with gift certificates from Evergreen area merchants including One World Café, The Green Merchant, Keys on the Green and Willow Creek can be yours if you are the winner of our Earth Month drawing. A minimum donation of $5 is suggested, although no purchase is necessary, and funds raised will benefit Western Resource Advocates. Those making a donation can elect to have their names added to our reception area Water Wall and the winner of the drawing will be announced on April 30.

"Round it up to the next dollar" is the offer we'll make to our guests when they check out after spa services during the month of April. Funds raised will be donated to Western Resource Advocates.

Western Resource Advocates is a non-profit environmental law and policy organization, with offices in seven western states, including Colorado. Its mission is to protect the west's land, air and water by working to advance clean energy, promote urban water conservation and defend public lands from energy development. Western Resource Advocates collaborates with conservation groups, hunters and fishermen, ranchers, American Indians and others to ensure a sustainable future for the west. Visit WesternResourceAdvocates.org for more information.