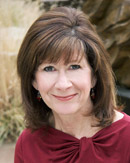 My husband, Chuck, had some minor surgery in August that required a long and extremely painful recovery. Before that, our horse, Jet, injured his leg somehow and has been limping and unable to exercise for a month. And, Lilly, our Labrador Retriever, whom many of you may have met sitting outside the front door of our spa, had her front paw stepped on by my horse and had 27 stitches. She's been wearing a little rubber boot to protect her foot for over a month. Then, I somehow injured my neck and have had to turn my entire body to look left or right.

I'm absolutely thrilled to say that we're all on the mend and feeling just about 100%. (Thank you, TallGrass massage team, for my much recovered neck!) But, it was another reminder to all of us to be grateful for our health. A little rain on a party, a fender bender, an argument with a loved one, and even the awful dip in the economy can be dealt with as long as we aren't sick or hurting!

I'm hoping that you and your family are taking good care of yourselves and getting ready to enjoy a fantastic fall!