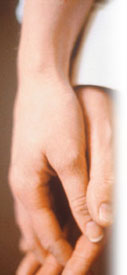 "We're in need, and there's no one here to help."

Back in 1992, that expressed need brought together dozens of folks living and working in the mountain areas west of Denver to find ways to respond to the needs of families. As a result, Mountain Resource Center was created with a mission to identify, advocate, and provide health and human services to mountain area residents and to bring together organizations and individuals who provide those services.

Today, delivering optimal welfare to a population of over 55,000 children, youth and adults, in a 1,000 square mile service area, spread across a dozen communities, Mountain Resource Center offers an array of health and human services like family crisis assistance, early childhood education, youth services, healthcare and health education, domestic violence intervention and community disaster relief.

And, they do it all with the collaboration of local businesses, agencies and volunteers, in a "neighbors helping neighbors" way.

So, when you hear us speak of our support of Mountain Resource Center through sponsorship of the Children's Holiday Party, sales of our TallGrass Cookbook, and participation in the annual All That Glitters gala, you know we are part of the neighborly network. And, through your patronage of us, you enable our continuation of support for them. That makes you part of the neighborly network, too.