---


Abbie
3-month-old, Hound-mix puppy

She has huge paws...she's going to be a big girl!

Available for adoption at
Evergreen Animal Protective League
www.EAPL.com
---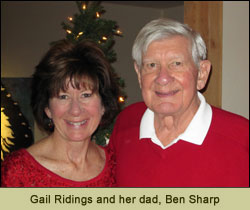 Last month as we celebrated Mother's Day, I talked about how beloved our mothers are. However, I absolutely cannot forget to mention honoring our fathers on Father's Day, June 19. I'm an only child and was not only blessed with a fantastic mother, who has now passed away, but an amazing, fun, smart and loving father. Often, mother's love is heralded as being the best, but that sometimes-more-quiet, and very steady, crucial support comes from our dads.
I happened to have the coolest dad on the block when I was growing up. Ben Sharp played "kick the can" with us after work, had a model railroad that all the kids wanted to see, helped me every night with my hated math homework and patiently taught me to drive a stick shift car. When I was afraid to move from Kansas City to Chicago to take on a new job, he encouraged me to do it because, as he said, "Go! The doors to Kansas City won't close; if you hate it you can come back." My dad remains a huge part of my life and, at 82, is traveling the world with his wonderful second wife, Joyce. He's been the standard for picking my own husband which is why I was 50 years old before I found the right guy.
Here's to our fathers — they are just as appreciated as our moms!
P.S. We'd love to hear about your father. Click here to post your comments on my blog page.

A Father's Day Message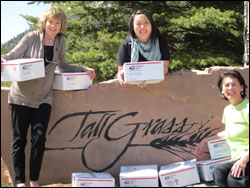 Father's Day Cards for Troops. We're sending Father's Day cards to troops in Afghanistan. You can join us in honoring soldiers who are dads by bringing a card for a troop and we'll be happy to send it for you. Mailing date is June 8. Or you can visit www.anysoldier.com for more information about how to send your support to a soldier.
Soldier Boxes. The TallGrass Solider Boxes project brought so much joy — and a few tears — to senders and recipients alike that this labor of love is ongoing. The next shipment to Afghanistan of toiletries, disinfectant wipes, feminine products, bug repellant, sun screen, playing cards, paperback books and any other useful non-food items that can fit into a flat rate box is scheduled for mid-August. That means we are collecting items now and your donations of cash to help underwrite shipping costs or personal care items for the boxes will be appreciated. Toiletries can be full size or travel size, like the ones you pick up in hotel rooms. And, next time you are at TallGrass, if you'd like to purchase and donate items from the Aveda travel size display, we'll discount them to you at our cost.

Sara Zutt, Spa Babe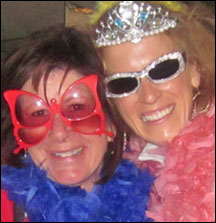 Sara thinks it was divine guidance that brought her to TallGrass. "I followed my intuition," she says, "and on the drive to Evergreen, I felt like it was going to be the perfect place to work. When I got to TallGrass, I just fell in love."
Launching her career as a reiki practitioner, Sara advanced to the world of massage where she learned to incorporate energy work into therapy for every guest. "I go to the deepest level where they are willing to go and it's different for each person," she says. At the end of every massage session, Sara includes heart-opening, chakra balancing.
In announcing Sara's selection as Spa Babe, TallGrass owner Gail Ridings talked about her positive, happy, joyful, attitude and described Sara as a "powerful force at TallGrass" because she is such an upbeat team member, never known to utter a negative word.
In keeping with her work at the spa, Sara maintains a holistic lifestyle, seeking wellbeing on all levels — physical, mental, emotional and spiritual. She is studying for a master certification in essential oils and is well versed in herbology. "It's all interconnected," she says.
Sara is pictured here with TallGrass owner Gail Ridings.