---


Hero
7-year-old, 11 lb,
Longhair Miniature Dachshund Neutered male, fully mobile but must be careful to avoid stairs and jumping on/off furniture, best with children over 10, friendly, enjoys company of dogs and cats, housebroken, leash trained and crate trained.

Available for adoption at
Evergreen Animal Protective League
www.EAPL.com
---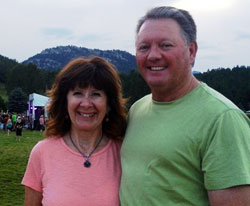 What a summer! In all my 18 years in Evergreen, I've never seen such a lush green landscape in early September. The pastures at our little ranch are still gorgeous, even though the grasses are competing with the water-happy weeds. And, the afternoon thunderstorms have been such a welcome relief to the heat of day.
We took our horses to the new Staunton Park on Hwy 285 last weekend and discovered an incredible park for hiking, biking, riding and climbing. If you haven't had a chance to go, I encourage you to check out the outdoor recreation there -- or at any of our beautiful parks. We are so blessed to live in this gorgeous state!
My husband, Chuck, and I loved the last concert of the season at Evergreen Lake. We had a fantastic evening listening to a great Motown band, dancing, laughing, watching the kids play and enjoying a spectacular sunset reflected in the lake. What a wonderful finale to these Wednesday night events.
I hope you are able to squeeze in a few more events and outdoor activities before Indian Summer arrives. Then, we will help you move seamlessly into fall with our Transitions13 Hair and Fashion Trends show. Don't miss it!

Amanda Barrett, Spa Babe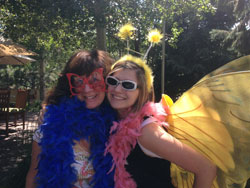 Amanda Barrett loves her job in the Guest Relations Department. She tries to do everything right and really cares about exceeding guests' expectations. Her professional manner, graceful demeanor and patient spirit make her a favorite among staff, and everyone agrees that she epitomizes the TallGrass mission to awe and inspire. That's the perfect collection of attributes for being named Spa Babe, TallGrass' highest honor.
"I have never felt more welcome in a workplace in my life," Amanda says when describing the supportive environment at TallGrass. "I love being able to help people, accommodate their needs and come up with quick solutions to problems."
Amanda loves Colorado's summers and she spends lots of time outdoors with her new puppy, four-month-old Ariel. "A German Shorthair Pointer is one of most energetic of breeds," Amanda says. "She's fun, and she's crazy, too!"
Amanda is pictured here with TallGrass owner Gail Ridings.

Transitions 13 Hair and Fashion Trends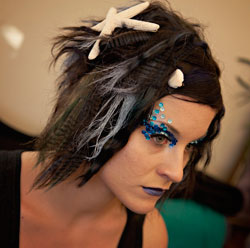 We are so full of pride for the way fashion show coordinator Jen Schapiro of our Hair Salon and her team of volunteers, representing every TallGrass department, pull together the fashion show each year, coming up with outrageous hair designs, blow-you-away nail art and dramatic runway makeup. They recruit models and fashion suppliers, and they coordinate staging, music, staffing and decorating. It's an enormous effort and they do it all in style!
As proud as we are of them, perhaps the most rewarding aspect of the show is supporting the non-profits that benefit from funds raised. And, you better believe our team comes up with lots of ways to raise funds - from three levels of ticket sales, to a cash bar, wine pull, prize drawings and silent auction.
Evergreen Animal Protective League, Mt. Evans Home Health and Hospice's Camp Comfort and Mountain Area Land Trust are organizations that we have been aligned with for many years. And, for good reason. They work to make our community a better place by finding forever homes for abandoned pets, providing services for grieving children and protecting open space for future generations.
It's a labor of love and a source of great pride. Please join us in helping to make a difference in the world.
Get the lowdown on the season's must have fashions: Thursday, September 26, doors open at 6 o'clock, Evergreen Country Day School on Swede Gulch Road, tickets $45, $35 and $25 ($5 more at the door).