---


Sweetie
Approx. 2 yrs old, 65 lbs.,
spayed, female

Smart, sweet natured, obedient, housebroken, good protector; loves to play with other dogs; likes hiking, snuggling and playing; needs lots of room and prefers to be around women

Available for adoption at
Evergreen Animal Protective League
www.EAPL.com
---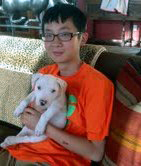 Meet Big Henry and Little Henry.
My husband and I are members of our local Rotary Club of Evergreen. One of the many ways that the group helps make a difference in the world is by sponsoring exchange students who come to our town for a year to experience life in the United States. This year, our club hosted Bia, a 17-year-old girl from Brazil, and Lee Hsiang, a 16-year-old boy from Taiwan. Lee Hsiang renamed himself Henry for his time here, just to make it easier for those of us who are not fluent in Mandarin!
Chuck and I were honored to have Henry live with us for the past two months. It was quite an experience since we have never had children and were suddenly the "parents" of a teenager! It's been fun and we're fascinated to learn not only how a young person thinks and acts, but also about his very different culture.
To make things even more interesting, Chuck picked out the puppy, pictured here, from the Evergreen Animal Protective League three weeks ago. He's the cutest, ugliest little guy you could ever meet and Chuck named him "Henry" in honor of our exchange student. Little Henry goes with Chuck to his State Farm office every day to greet the clients there. I'm sure we'll be bringing him to our upcoming Wine, Washes and Wagging tails event on July 21, so you can meet him, too. (Read all about it below.)
Hope your July is full of "interesting additions" to your life!

Christy Clark, Spa Babe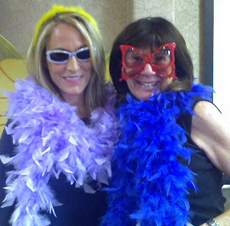 The first massage Christy Clark ever received was at TallGrass, back in 1997, when her wedding was at the Evergreen Lake House and she had her bridal party here with us. A few years later, when she became a massage therapist herself, she came to work right out of school to what she calls "the magical-ness of TallGrass."
Christy explains that massage is all about healing and, for her, it's a privilege to make a difference in the lives of TallGrass guests by providing a healing space for them. "There are so many types of healing that people seek," she says, while ticking off: therapeutic, cancer, dealing with loss, nurturing, and creating the self-care that is so hard to make time for these days. It's pretty common for guests to open up to Christy. "You never know what someone's story is or why they are here,"she says. "Every guest is different."
In being named Spa Babe, Christy was described by TallGrass owner Gail Ridings as a person who does an all-around great job, whose steadiness and consistency are balanced by her caring and sweet disposition.
Nowadays, Christy is a fulltime single mom to Madisyn and Reece. The family hikes, plays soccer and works out together at the rec center. "I get my kids into health and fitness," she says. "It's a big passion of mine."
Christy is pictured here with TallGrass owner Gail Ridings.

Summer Fun for Dogs and Their Humans at "Wine, Washes & Wagging Tails"
Third Annual Dog Wash takes place in Evergreen on July 21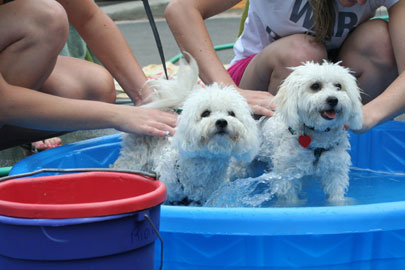 Summer Fun for Dogs and Their Humans! is the theme for our third annual "Wine, Washes & Wagging Tails" dog wash. The frisky soap suds and wine sipping event is scheduled for Sunday, July 21, from 11 a.m. to 3 p.m., in the drive-thru of Evergreen National Bank on Hwy 74, in downtown Evergreen.
A $20 ticket is good for one wash by volunteers for your dog and one glass of wine from Creekside Cellars for you. All proceeds benefit Evergreen Animal Protective League, an all-volunteer organization that aids lost and abandoned animals in need of forever homes.
New to this year's festivities is Buddy Bites, a doggie ice cream truck, serving bone-shaped frozen treats, "pupsicles" on rawhide sticks and snow cones with "Muttsturd" toppings. "Everything's healthy for the dogs," says Buddy Bites owner Deanna Kwak, describing the treats that are non-dairy, turkey-based and contain omega 3s, probiotics and glucosamine.
We don't know if it's more fun for the dogs, the volunteers or the folks who come just to watch. And we invite you to join the fun!