---


Leila
10-12 yrs. old,
spayed female,
approx. 60-lbs.

Sleeps like a baby, is very level headed, and is a sweet girl who loves to talk and can be bossy.

Available for adoption at Evergreen Animal Protective League www . EAPL . com
---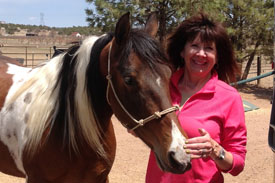 I love May, so full of fresh promise. Spring and summer are still a bit elusive in our foothills community - we aren't quite there yet - but you can feel the warmth and see the growth. The fun of summer is just outside of our grasp. How exciting!

During the month of May, we celebrate my husband, Chuck's, birthday and our wedding anniversary. And, I always love the Mother's Day holiday. Even though I'm not a mother and my mother has passed, I so enjoy honoring everyone else's mother. At TallGrass, we truly love taking care of so many mothers during this month, turning the tables and giving them the tender loving attention, just the way they lavish on their families the rest of the year.

This month, I have another reason to celebrate: there's a new "girl" in my life. We just brought home "Lady," a Tennessee Walker mare as the newest member of our Lucky Penny Ranch. She is making her stablemate, Jack Flash, ecstatic with her good looks and saucy manner. The trails of Evergreen are calling to me, just as soon as this last spring snow melts!

Happy Mother's Day to all of you wonderful women! We hope to celebrate with you!

Mother's Day 2013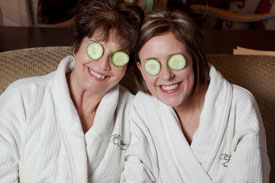 TallGrass is the best place we know for you and Mom to kick-back, relax and enjoy a day together. Have manicures and pedicures side-by-side in our cozy Nail Room, share a leisurely lunch on the patio and, if you want, get silly with cucumber eye pads.

At TallGrass, Mother's Day is a very big deal and we want to help you celebrate in luxurious style.
Our May bonus , which is an exclusive offer just for newsletter subscribers, treats you and Mom to lunch anytime during May when the two of you come to TallGrass and both purchase $80 or more in services.
Or, take advantage of our "Take Your Mother to New Heights" celebration which adds a $20 coupon to the purchase of a TallGrass gift certificate of $100 or more, when made by phone or in person (online purchases excluded). Mom can use the coupon for savings on any boutique items including all Aveda products.

Rose Smith
April-May Spa Babe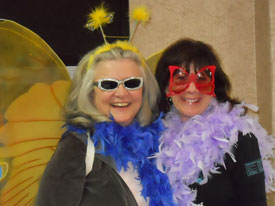 The coveted Spa Babe award for April-May goes to Rose Smith whose amazing work ethic makes her the person that everyone at TallGrass looks up to. In announcing the award, TallGrass owner Gail Ridings described Rose as "a team member with traits we admire, who truly embodies our value statements."

Rose works behind the scenes in the Laundry Department. "It may sound odd," she says "but I'm happy as a clam being downstairs mostly all by myself, washing, drying, folding and then delivering the towels and robes." During the day, occasional visitors pop in from the massage or facial departments to get something they need and stop to chat for a moment. Working in the Laundry is a physical job. She explains: "I've lost weight and gained muscles."

A volunteer at the Mt. Evans Outdoor Lab School, Rose gets involved in programs teaching subjects ranging from biology to astronomy, archaeology and history to 6th graders who spend a week at the school. Every Monday, dressed in an authentic 18th Century costume, she brings history to life, talking about the school's origins, once the summer estate of the wealthy Phelps-Dodge family of Denver.

Rose is pictured here with TallGrass owner Gail Ridings.