---


Maggie
7 yrs old, 15 lbs., UTDS and spayed
Maggie has pretty brown eyes, is house trained and a great walker who gets along with other dogs.

Available for adoption at
Evergreen Animal Protective League
www.EAPL.com
---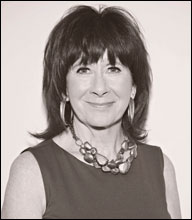 Congratulations and a huge round of applause for mothers everywhere. Is there anyone more loved than a mother!
If I don't have any human children, can I still be called a "mother"? Someone suggested that I'm a mom to our animals - 3 horses, 3 dogs, 2 cats - and quite possibly to my husband.

I know how much time and energy tending to my brood takes and can only imagine how much more complicated, exhausting and rewarding it must be to take care of children.
For those of you who are visiting TallGrass to celebrate Mother's Day or any important occasion, be sure to ask us to take your picture. We'll put your photo in a special frame. It's our complimentary gift to you.
And speaking of celebrations - how time flies! - my husband and I will have been married six years on May 7. We are so excited to spend our anniversary evening in the stunning new Tree House Suite at Evergreen's Highland Haven Creekside Inn by invitation from our dear friends, Tom and Gail who own the Inn. If you have a romantic evening coming up, we highly recommend reserving this fantastic treat at Highland Haven, just down the road from TallGrass...which makes it incredibly easy to add to the romance with a TallGrass Tango!
Happy Spring!

Mother's Day Message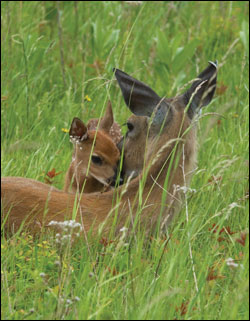 Mother's Day is May 8
We honor our Moms every day of the year but especially on Mother's Day which is May 8, this year. We always want them know how much we care and, when you think about it, pampering spa gifts, by their very nature so gentle and caring, are the perfect way to show appreciation to our mothers for all their tender care.
You can bring Mom to TallGrass on Mother's Day - or any day in May - to enjoy the Body and Soul Spa Package which is our e-newsletter subscriber bonus for May. And, while the two of you are here, please ask us to take your photo and we'll put it in a special TallGrass frame, as our gift to you.
Mom might enjoy a manicure, or a pedicure or a facial. Our full service menu is full of ideas for pampering. And, if you can't decide, a gift card is always a good choice. We have really cute instantly printable gift card designs, some for children to color and others that reflect the mother-and-child theme. A traditional gift card, beautifully wrapped with tall grasses, is always a good choice, too.
Whatever you decide, let us join you in honoring your Mom this Mother's Day

Earth Day Results - almost $1,000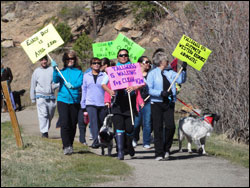 At TallGrass, we filled our April with activities in support of Aveda's EarthMonth2011 campaign. From promoting sales of Aveda's Light the Way candle, to helping you economize by purchasing Aveda products in plastic-saving litre sizes, to making donations to earn the privilege of wearing jeans to work, we became Water Warriors.
Our Walk for Water on Earth Day, April 22, attracted two dozen staff and guest participants who donated a minimum of $50 each in contributions to Western Resource Advocates, a public policy organization that works to safeguard western water. Western Resource Advocates also benefited from the sales of $5 Water Drops hung on the TallGrass water wall which earned donors a chance to win a basket loaded with gifts from TallGrass and area merchants (Green Merchant, Grow Your Own, Ixehel Imports and Willow Creek Restaurant), valued at $500.
All in all, it was a productive month. We raised awareness about clean water issues and almost $1,000 in donations for clean water organizations. Thanks to everyone who participated in making a difference in the world.