---


Scotty
5-month-old, 30-lbs,
18-in tall, neutered,
Pit Bull Mix

Very loving puppy who likes to cuddle and nap on your lap, gets along well with other dogs, is housetrained, well on his way to knowing "sit," rides well in the car, and his favorite toy is a tennis ball.

Available for adoption at Evergreen Animal Protective League www . EAPL . com
---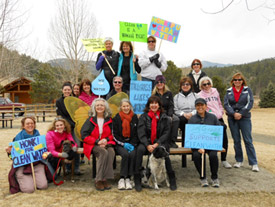 Aging. We're all doing it. Unless you're 20 and anxiously waiting for that next year to roll around, most of us are not too thrilled about getting older.
I've noticed my conversations with friends and family have shifted into talking about failing body parts and it feels so strange. Of course, you knew it was going to happen, but still it's odd. Most of the time, I feel like I'm in my 30s while my body sometimes says otherwise. I'm nearly six months into the long process of rehab from my shoulder surgery in November and last month I was diagnosed with osteoporosis! Really? Isn't that what grandmothers get? (Oh right, most people my age ARE grandmothers!) I'm not feeling sad or depressed about this; it's just a bit surreal.
I'm so grateful for my basically great health because I know many people, young and old, who would be thrilled to have a body like mine that still works pretty well. And, with getting older, comes the ability to roll with life's curves a lot easier. Things aren't as earth shattering as they used to be. And, I appreciate each day with my friends and my family a lot more. Those are wonderful benefits of getting older! I read a quote recently in my Readers Digest. (Yes, I'm reading that now -- instead of Cosmopolitan.) "Aging is not lost youth but a new stage of opportunity and strength," according to Betty Friedan.
P.S. Some of our TallGrass team got together on April 1 to participate in our TallGrass Aveda Walk for Water to benefit Western Resource Advocates' water conservation programs. We were surprised and thrilled to be joined by five women who read about our walk in The Denver Post. They contributed their time and money to support the cause and we couldn't have been happier to have them come along! In fact, they've inspired us to expand our walk next year. Stay tuned. Hopefully you'll join us in 2014, too. In the meantime, we still have lots of Earth Month celebrating to do. Read about our plans below.

Earth Month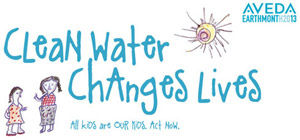 "Clean Water Changes Lives" is the Aveda slogan for Earth Month 2013 and, at TallGrass, we're on board. Everything we undertake during the month of April underscores our commitment to the clean water campaign, from our TallGrass Aveda Walk for Water earlier this month...to sales of Aveda's Light the Way Candles...and lots of projects in between. Join us and make your own commitment to clean water, too.
Some of our projects are in-house, like Jeans for Greens which allows staff members to wear jeans to work in return for donations and the Earth Week Bake Sale that takes place in the staff break room.
But, no worries, there are plenty of projects for you to support, too.
Enter a prize drawing (1 ticket for $5, or 3 for $10) to win our signature 80-minute SweetGrass Massage .
Purchase home-baked sugar cookies (3 for $1) in shapes of the earth, moon and sun in the Nail Salon; sweet smelling sachets will be for sale there, too.
The Guest Relations team is making earrings for pierced ears ($20 to $25) with a water-inspired motif, featuring Czechoslovakian crystals in the colors of Colorado lakes and streams. Find your perfect pair in the Boutique.
In the Hair Salon, buy a fish for the fishbowl (1 fish for $6, or 2 for $10) and be eligible to win a complimentary haircut .
The Team Leader of our Massage Department hails from across the pond and she's leading the massage therapists in putting together a traditional English Tea Party with all the trimmings. Donations requested, of course.
Waxing for Water is the Skin Care Team's contribution offering hair removal treatments for $5 and $10 donations. They are also putting together, for donation, their Cleanse Regime complete with recipes and a Salad Bar is in the works, too.
The behind-the-scenes folks who run the TallGrass Laundry have selected a few gently worn robes available for small contributions and you'll find donation boxes crafted by them in the changing rooms.
Not to be outdone, the Catering Department's Magic Bars for Water loaded with chocolate, nuts, and other delights, are available for donation. You can't possibly miss them in a basket at the Front Desk.
All proceeds from our projects benefit Western Resource Advocates , a Boulder-based non-profit committed to protecting the west's land, air and water. If you'd like to make your own donation to Western Resource Advocates, we'd be happy to pass it along for you.
We've already mentioned Aveda's Light the Way Candles but what you may not know is that 100% of the $12 purchase price is donated to clean water projects funded by Global Greengrants, Aveda's Earth Month partner. And the other facts you may not know are that they are made from 100% organic ingredients, in a 100% reclaimed glass beverage bottle, packaged in 70-90% post-consumer recycled paper and - most important of all - the purchase of one candle equals one year's supply of clean drinking water for one person in Madagascar. So, okay, how many would you like?