---



Bear and Rocky
Both 6 yrs old, Bear is a Chow mix and Rocky is a Rottie mix. BFF, they are a very bonded, inseparable pair who must find a home together, love people and can't get enough pets and lovin', are very friendly and fine with other dogs.

Available for adoption at
Evergreen Animal Protective League
www.EAPL.com
---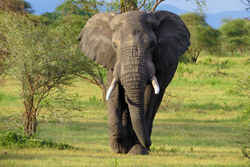 Chuck and I just came back from a "trip-of-a-lifetime" experience in Tanzania. We went with 11 dear friends, many from our local Rotary group, and we were privileged to visit a couple of the projects and meet some of the people who benefit from Rotarian support in Arusha.
We were touched by warmth and care from the Tanzanians. Our two guides, Adam and Chui, drove us in safari vehicles for 10 days so we could have the opportunity of seeing literally thousands of animals. Wildebeests, zebras, giraffes, hyenas, hippos, rhinos, gazelles, elephants, baboons, lions, leopards...Wow! While the trip could never be called relaxing -- it was full of intense sights, sounds, smells and activity -- there were innumerable special moments that will remain in our memories for the rest of our lives.
As I've gotten older, I've found I have less interest in "stuff" and instead crave experiences. Events, interactions with friends and family, celebrations, volunteering, travel are all memory-builders. These experiences enrich my life in ways that a new car or a pretty dress just doesn't do anymore. (However, I must confess that a cute pair of shoes can still light me up!)
When you think about experiences, we hope you'll agree that a visit to TallGrass is a memory-builder, especially when you come with dear friends or family. Our valley is beautiful now. We've had a bit of snow and the afternoons are clear and sunny with the quintessential bright, blue Colorado sky. Your memorable experience awaits.
Photo by Randall Sackerson.

Spa Babe - Jaime DuBois
Achieving her goals and inspiring fellow staff members to do the same earned Jaime the title of Spa Babe, TallGrass' top honor. Spa owner Gail Ridings calls Jaime the "consummate professional" and talks with pride as she describes Jaime's progress over the year-and-half that she has been at TallGrass, improving, growing, learning and becoming better and better all the time.
Jaime works in the Guest Relations department where you'll find her at the Front Desk, checking guests in and out, making sure they are comfortable with the spa and familiar with the amenities available to them. And, because of her great performance, she has been promoted to a Manager on Duty position, putting her in charge of opening and/or closing the spa and working with staff to make sure that every guest has an awe and inspiring experience.
"The spa culture is calming and there are a lot of peaceful people here," she says. "It's fun and I really like everyone I work with."
Born and raised in Minnesota, Jaime came to Colorado to escape the harsh winters. She explains: "It snows in moderation here. It's not so cold. And, that's why we're staying!"
Jaime is pictured here with Gail Ridings.

TallGrass Aveda Walk for Water

Help us kick off Earth Month on Monday, April 1st and join our Walk for Water. The 3-mile walk commemorates the average distance women in developing nations must walk each day to collect clean water for their families and it raises funds for the clean water efforts of Western Resource Advocates, a Boulder-based non-profit organization that works to protect the west's land, air and water.
Starting at 1:00 p.m., the walk begins and ends at the Evergreen Lake House. The entry fee is a $20 minimum donation, everyone is encouraged to recruit sponsors, and you're invited to bring along your dog (on a leash, please) on this annual event for TallGrass staff, guests and friends.