---

Chance
1-2 yrs, 40-45#, male
Aussie-Cattle Dog mix
Sweet, gentle and smart, an
all-around good boy who
gets along great with
everyone including dogs, children and grown-ups
(but no cats, please).

Available for adoption at
Evergreen Animal Protective League
www.EAPL.com
---

In the past 6 weeks I had two surgeries – one to repair a hernia and the other a torn rotator cuff. I'm still sporting my lovely immobilizer sling and will for another couple of months. When I was approaching the rotator cuff surgery, many people shared stories of pain after shoulder surgery. They would shake their heads and say: "Oh, I hear that it's really awful. I'm so sorry!" My husband, Chuck, was concerned since he says I have a low pain threshold. A few friends, however, said: "It's not too bad, you'll be fine." And, since I have such a great family of choice (my friends and my TallGrass team) who demonstrate time and time again the power of positive thoughts and prayers, I went into the procedures with more confidence than fear. Other than a couple days of nausea due to pain pills, both surgeries and recoveries have been a breeze. Believe me, I'll be thrilled to have both arms back again, but I'm so blessed to have such a small issue of minor annoyance. I truly believe that the power of our minds is a key component in life. We certainly can't decide what will happen to us, but we sure can decide how to react.
One of my dearest friends in the world is in the hospital as I write this, breathing with the help of a ventilator. She is a testament to having a positive, strong, faith-filled outlook. Diagnosed with cancer years ago, she has consistently shown her friends and family how best to handle a difficult situation with grace, patience, acceptance and love. She has never once expressed anger or fear about the serious health issues that plague her. She has enjoyed each sunrise, time with her wonderful family (especially her grandchildren) and her connection with God every single day. She is one of my greatest sources of inspiration and I only hope that I can get close to living up to the example that she continues to set for me about how to live successfully.
For everyone who may be having a tough time during this holiday AND for those whose holiday happens to be even better than usual, we send our best wishes of love and peace to you and yours.
God bless us, every one!



TallGrass Holiday Gift Certificates are Perfect
Aveda's Holiday Gift Sets are Awesome, Too!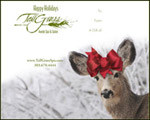 Isn't it nice to be able to give gifts you know folks will really love? Like TallGrass gift certificates.
We make it easy for you no matter what your shopping style. Use your i-Phone, Android, laptop or PC to access our website and order instantly printable gift certificates. They come in lots of cheery holiday designs. And, for you low-tech types, just give us a call and we'll be happy to mail beautifully wrapped gift certificates to everyone on your list. Either way, it's pretty darn simple. And, please don't forget about yourself. Our HINT option makes it easy for you to let folks know about the TallGrass gift you'd like most. It's so easy to visit our website and simply click on HINT.
While you're thinking about gifts people really like, keep in mind that Aveda's limited edition, available only once-a-year and discounted holiday gift sets are collections of everyone's favorites, like Shampure Shampoo and Conditioner, Calming Body Cleanser, Replenishing Body Moisturizer and travel-size Hand Relief ($76.50), or Stress-Fix Body Lotion and travel-size Soaking Salts ($36.50), or Nepali Berry and Himalayan Ice Mini Lip Glazes ($18), just to name a few. This is the fifth year in which Aveda is buying paper from Nepal for gift sets – over one million sheets of paper since the project began, employing almost 5,000 people in paper production, with 90% of the papermakers being women, all together making a huge difference to families in Himalayan villages. There can't be better reasons to give Aveda gift sets to everyone on your list!



Children's Holiday Party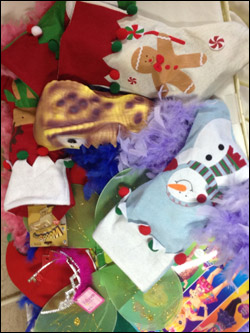 Supporting the Mountain Resource Center's children's holiday party is a longstanding tradition with us. We don't even remember when it all started, but the date is always circled on our calendar and we wouldn't miss it.
Every year on a Saturday afternoon in December, the excitement mounts as Santa and Mrs. Claus arrive at Conifer High School on a fire truck, climb up on a Christmas wonderland stage and visit with all the boys and girls. A band plays holiday music, and area restaurants donate pizza and hot chocolate. There are craft and activity tables where children make bird feeders from pine cones and holiday cards for their parents. There's even a petting zoo. All the while, behind the scenes, parents are choosing toys to put under the tree and slipping unseen out the back door to load them into their cars.
In the days leading up to the party, we're shopping for goodies and stuffing 200 stockings with age-appropriate toys like fairy wings, dinosaur masks, planes to assemble and magic tricks to learn, hand puppets, tiaras, paper dolls, play-doh and candy. Then, on party day, we dress up as elves, hand out the stockings and serve home-baked cookies.
Mountain communities often have an aura of affluence. But, actually, that's not always the case around here. As Mary Alice Cohen, Project Director of the Mountain Resource Center, explains: "There are pockets of poverty among people who have lost jobs, are experiencing a medical crisis, who may have lost their homes and have no where else to turn." We are so privileged to be able to help make the holiday merry for these families with such a high degree of need.
If anyone ever wanted to know about the true spirit of Christmas, this is it!