---


Cantu
6 yr-old, 65 lb, male Lab
mix
He's all Lab, a great boy
who loves people and does
well with kids and other
dogs, is well behaved and
eager to please, knows
commands, walks well on
a leash, likes to run and
play fetch, and he is always
up for adventure!

Available for adoption at
Evergreen Animal Protective League
www.EAPL.com
---

I don't have children. I always thought I would and it just never happened. Maybe it had something to do with not getting married until age 50! Over the past 30, years I've watched and listened as proud parents (and now many of my friends are grandparents) show and tell me about their children's achievements with pride and happiness. Well, today it's my turn to beam with pride about the talents of my TallGrass team, as close to my own kids as I'll ever get, who worked together to create an awe inspiring Transitions12 Hair and Fashion Trends show with multitudes of moving parts. They pulled together 5 clothing stores including our own TallGrass Boutique, 10 children models, 12 fashion models, 12 hair, makeup and nail models, 6 dog and 2 cat models, and an onstage haircut. And, that was just for the stage show.
They added a silent auction this year which was enormously successful. Then, they sold out the show with standing room only. The little Evergreen Country Day School cafeteria was transformed with 2 runways, scented candles and an incredible new set design. There even was a costumed bird creature lurking down the runway and teasing the crowd! No one wanted the party to end and everyone stayed afterwards to see the wild hairstyles, make-up and nails on our models and enjoy coffee and dessert.
The total proceeds of the evening are still being calculated but we are way beyond previous years' income and the folks from Mt. Evan's Hospice's Camp Comfort and Mountain Area Land Trust expressed their happiness at the chance to be beneficiaries of the show.
So, forgive my bragging, but dang it – I'M SO PROUD OF MY FAMILY AT TALLGRASS!



Holiday Time Soldier Box Project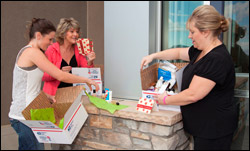 Filling flat rate priority mail shipping boxes with personal care items for men and women and sending them to soldiers in Afghanistan is the heart of our Soldier Box Project. For three years now, it has been a labor of love for guests, staff and friends in the community who participate and the best way we know to show respect and concern for our troops in harms way.
Gearing up for a holiday shipment that goes out on November 19, we once again invite your support as we collect donations of full size and travel size toiletries (no aerosols, please), paperback books and sanitary supplies. After the last shipment, soldiers let us know that nail polish was a big hit. So, we're adding that to the list; both new and used polishes are acceptable. And, as always, if you'd like to visit our Boutique and purchase Aveda travel size products to include in the shipments, we'll be happy to sell them to you at our cost.
Perhaps the most appreciated items in the boxes are the Christmas cards and notes. This year, we purchased 1,000 cards for you to sign. Find them in our Great Room and please take a few minutes to write a note or two or three to our troops and let them know you're thinking of them at holiday time. Your signed cards will go into the care packages, along with a few blank cards so soldiers can send them to their friends and loved ones.
Another great way to participate and Support Our Soldiers is through our SOS Spa Services program, running from October 8 through November 8, when a portion of the proceeds from SOS Aromatherapy Massages, SOS Aromatherapy Facials and SOS Regular Pedicures will be allocated to underwrite costs of shipping the boxes to Afghanistan. Please be sure to specifically ask for the SOS Services when you call to make your appointments.
Thanks for everything you do to support this program and help make a difference in the lives of our soldiers.
Photo credit: Tamara Dawn Photography



Transitions12 Hair and Fashion Trends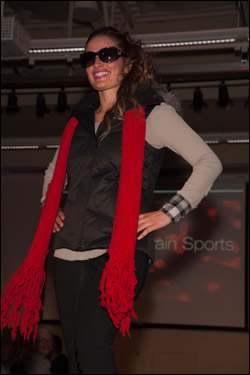 Every year, we think we can't top it, but then we always do. Our Transitions12 fashion show broke all records – for attendance, for fundraising and for fun. The evening was a success because of the creativity and enthusiasm of our staff who filled every role from Models to Clean-Up Crew. Our artistic hair, makeup and nail stylists astonished us all with their outrageous designs, while talented sound and lighting professionals in our community jumped on board to create that big city fashion week ambience. There were so many elements to pull together – from clothes to hair to makeup to models to music and set design, plus a silent auction and a dessert reception. The network of people committed to working together pulled it off without a hitch. Next year, when we tell you to get your tickets in advance, listen up!
Photo credit: Tamara Dawn Photography