---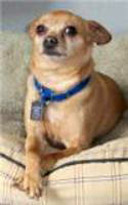 Crush
7-yr-old, 9 lb, male Chihuahua.
Loyal and affectionate, needs a home without children, is in good health, loves to go for walks and would do well as an only dog or companion for another small dog

Available for adoption at
Evergreen Animal Protective League
www.EAPL.com
---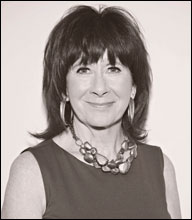 Some women follow fashion trends in the style magazines with great passion. And, some love to shop 'til they drop at the mall. While others – like me – get confused, overwhelmed and need help to avoid trying to adapt clothes best suited to a size 4, 23-year-old model or, worse yet, throw on something comfortable that would look better on my 83-year-old Aunt Cassie.
I'm blessed to work at TallGrass and have my friend and our boutique buyer, Marcia, help me feel beautiful in clothes she finds to sell at TallGrass. And, I'm lucky to know other fashion experts like my friend, Sylvia, who is a clothes stylist and who recently showed me how to update my look. And, of course, I do get some great advice from our makeup artists and hair stylists.
Coming up in a few weeks is our 4th annual Transitions Hair and Fashion Trends Show. (Read more about it below). We'll feature fashions that fit and flatter from local retailers and ultra-creative hairstyles, guaranteed to amaze you, on our TallGrass hair models. The show is a great way to get in the mood to think about fall fashions for those of you who don't need any help and the rest of us who need a push in the right direction. Like me!

Leslie Laszakovits
August-September Spa Babe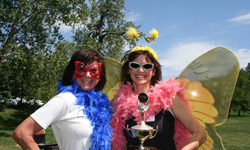 Just six times each year, a staff person is chosen to wear the Spa Babe crown. Selected for an exemplary work ethic and a caring, giving style that everyone strives to emulate, the Spa Babe is the essence of the TallGrass mission to "Awe and Inspire."
Our August-September Spa Babe is an esthetician who has been practicing for 25 years. Leslie Laszakovits has always been interested in skincare. During her high school days, all the girls showed up at her house before a party so Leslie could do their make-up. Purposefully, her grandmother, who was a strong proponent of women having careers, introduced Leslie to the Catherine Hinds Institute of Esthetics in Boston, where she learned that skincare can indeed be a fine profession.
Fast forward to TallGrass 25 years later and Leslie talks about the huge changes in skincare. When she started, only holistic methods were practiced while today the clinical side has become trendy. "I prefer the holistic side," she says. "It's about touch and manipulation. The power of human touch has not even been fully realized. It's therapeutic and it's so good for people."
Leslie is the mom of two boys, one a recent college graduate who is working as a photographer and a 16-year-old still at home. She describes herself as an old-fashioned mom who likes to bake a lot because two boys like to eat a lot!
Leslie is pictured here with Gail Ridings.



Transitions12 Hair and Fashion Trends

If you want to know what's in vogue for the coming season, the 4th annual TallGrass fashion show is the place to find out. And, it's not just about clothes, either. Trend setting hair styles, amazing nail art and dazzling makeup are featured, too. Enjoy a performance from the Evergreen Players production of the musical "Hair," a coffee and desert after-party with the models, chances to win prizes, a silent auction, hors d'oeuvres and a cash bar.
Perhaps you already know the TallGrass Boutique is a destination shop for trendy casual clothing, unique jewelry and one-of-a-kind gifts because maybe you're one of the many folks who look forward to shopping at our boutique. So, this year, we're making a fashion statement by joining DARE Boutique, Le Boudoir Lingerie, Boone Mountain Sports and Sweetwater in presenting the seasons' must-have fashions.
Please join us on Thursday, September 27, at Evergreen Country Day School on Swede Gulch Road. Doors open at 6 o'clock. Tickets ($45 premier, $35 cabaret and $25 general admission) can be purchased in advance at TallGrass or at the door (add $5). Funds raised benefit Mt. Evans Home Health and Hospice's Camp Comfort for grieving children and Mountain Area Land Trust's efforts to conserve open spaces.
See you there!