---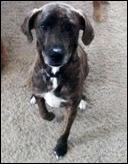 Muddles
3-year-old, 35 lb.
Terrier-Boxer Mix
Lots of positive energy,
house-trained, knows "sit"
and comes when called,
good with other dogs, loves
to play but also likes to sit
and cuddle

Available for adoption at
Evergreen Animal Protective League
www.EAPL.com
---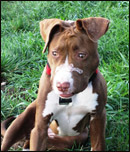 Meet Meri, our newly adopted family member. My husband, Chuck, fell in love with this sweet pit bull earlier this year when he met her at an event. Then, during our Wine, Washes and Wagging Tails fundraiser for the Evergreen Animal Protective League (check out our Facebook page for adorable photos), he met her again and this time she was ready to be adopted. Jackie Bell, the founder of the EAPL, was giving her a foster home but, with too many dogs in the house, it was time to find Meri a forever home.
Meri had a horrific beginning, suffering terrible injuries – broken hips, legs and jaw. She was found with wire wrapped around her mouth that left her with the scars you see on her nose. The astounding thing is, not only did she survive awful abuse, but she is the sweetest, most loving, accepting, happy dog you could ever meet. She is the most popular animal wherever she goes and people go out of their way to say hello and pet her. She will be going to work every day with Chuck at his State Farm office up on Hilltop in Evergreen. And, already, they are inseparable!
We think Meri certainly exemplifies the TallGrass mission statement to "Awe and Inspire" because of her positive, loving spirit. And, we are blessed to have her as part of our family!



Welcome Tarah Howard, Spa Director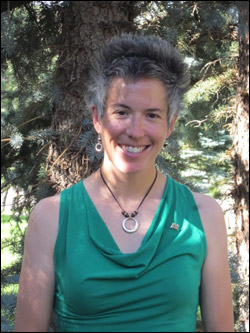 We are pleased to welcome Tarah Howard, our new Spa Director, to the TallGrass family. Tarah comes to us with a resume that includes Canyon Ranch and Life Time Fitness and she has also worked as a Success Coach. All of these are great ingredients for success at TallGrass as Tarah takes on the challenges of managing a staff of caring professionals and running a spa that exceeds everyone's expectations.
One of Tarah's greatest strengths is the way she connects with people, finds their hidden talents and brings them out in a way that maximizes their skills. "I'm always looking for the tools I can provide to help people be their best," she says. "And, I'm so happy to be here, doing what I enjoy most."
Moving to Colorado from Ohio, Tarah found a home in Evergreen, not far from the spa and marvels at the views from her south-facing windows. "There's tons of sunshine," she says, as she discovers one of the best reasons for living in Colorado. She's an active individual who likes to climb, hike and run trails. Clearly, she's found the right spot.