---


Oliver
Loves humans and dogs, is house trained, walks well on a leash and enjoys car rides. Has minor health issues and is not good with small children.

Available for adoption at
Evergreen Animal Protective League
www.EAPL.com
---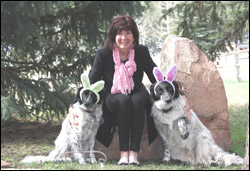 How do you handle change?
We had to deal with change on a small scale with the weather in Evergreen these past three days when it went from a clear and sunny 80 degrees one day to a wintry 24 degrees and 12 inches of snow coming down two days later. Never a dull moment, but the moisture was very welcome–especially to douse the wildfire that was raging around Conifer last week. Seasons are a reminder that life moves on, events continue.
My wonderful horse, Jet, a stunning black Foxtrotter, had another health issue a couple of weeks ago. He's been struggling with one thing after another for years. This time it couldn't be fixed and we had to let him go. My husband and I are heartbroken.
On a much brighter note, my dear friend, Shelly, had change for the good. She was able to come home after a month in the hospital getting a stem cell transplant. It's serious stuff, but with her normally positive spirit, she is making the best of it and we are planning for her full recovery to good health. She's been my BFF and hiking partner for over 10 years and we'll be getting back on the trail ASAP.
So, no matter what change you might encounter, I hope that you are weathering it well and taking things in stride. And, if you do feel unsettled, I know a great place where you can go for tender loving care and soothing treatments!
Happy Spring!

Earth Month at TallGrass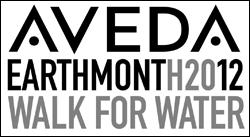 Earth Day at TallGrass has always been a very big deal. Caring for our planet is part of our creed and definitely in keeping with the Aveda philosophy. That's why we dedicate the whole month to honoring, celebrating and fundraising to protect the earth. We know you agree because, thanks to your support, we've raised thousands of dollars through our annual Earth Month campaigns. This year with your generous help once again, our goal is to raise $3,000 for Western Resource Advocates, a non-profit organization headquartered in Boulder which is committed to protecting the west's land, air and water.
Visit TallGrass during Earth Month and celebrate with us.
Jeans for Greens – When you see staff members wearing "Ask Me about My Jeans" buttons, you'll know they earned the privilege of wearing jeans to work in return for a $5 donation.
Aveda Walk for Water – It happens in cities all over the world during Earth Month to raise awareness and funds for clean water organizations. We're organizing the Evergreen walk on Sunday, April 22. Entry fee is $20, everyone is invited and we'll go the distance to observe the average 6 km that women in developing nations walk each day to find clean water. Meet us at Evergreen Lake House at 9:45 a.m.
Light the Way Candles and EarthMonthH2O Water Bottles – When you purchase these limited edition candles ($12 each) and re-useable water bottles ($21 each), 100% of the price is donated to Aveda Global Greengrants water-related projects. Find them in our retail area and at our booth at the Mountain Area Earth Day Fair at Evergreen Lake House on April 21.
Fundraising Celebrations around the Spa – In the Hair Salon, buy a fish ($6 each or 2 for $10) to drop in the bowl and enter to win a complimentary haircut. When checking out, Guest Relations staffers will be encouraging you to round-it-up to the next dollar. All month long, estheticians will be glad to add a lip wax or foot massage to your service for a small donation ($10). In the Nail Room, treat yourself to home baked cookies (3 for $2) in shapes of the earth and moon. And, if you visit us at the Mountain Area Earth Day Fair, chair massages are $1 per minute.