Jessica Podolsky
February-March 2012 Spa Babe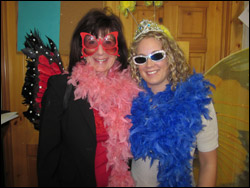 Chalk one up for the internet. That's where Illinois resident, Jessica Podolsky, connected with TallGrass. A massage therapist looking online for a way to join her high school friends who moved to Colorado, Jessica logged on to the TallGrass site and set her sights on a position in the Massage Department. A couple of trips to Evergreen for interviews and the job was hers.
"Living in Colorado fits me much better," she says. "It's sunny, there's no humidity, and the lifestyle is healthy." With a specialty in therapeutic and sports massage, Jessica finds the health conscious Colorado attitude a perfect fit. She loves to help spa guests unwind, slow down and let go, and she appreciates the positive and relaxing atmosphere at TallGrass. "It helps that the spa is at the base of Mt. Evans, such a beautiful setting."
In announcing Jessica's selection as Spa Babe, TallGrass owner Gail Ridings described her as someone who most exemplifies the qualities we all want to live by. "She's a high energy, positive and happy person who gets tons of praise from team members and guests," said Gail.
Jessica embraces the Colorado lifestyle in her leisure time, too. When she's not at TallGrass, she is probably hiking, exercising or mountain biking and she recently picked up as new skill -- fly fishing.
Jessica is pictured here with Gail Ridings.