Message from Gail Sharp
November 2023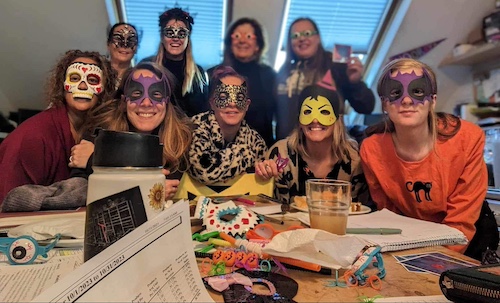 On the last Tuesday of every month, we have a 7 a.m. Team Leader meeting here at TallGrass.
It's an important time for our leaders to report on how their departments are progressing – sharing metrics, guest reviews, new employees, things that are going well, and challenges. The last question each person answers is "What did I learn as a leader?" Our time for sharing includes many inspiring triumphs but also some tough experiences each person is facing. I've been at pretty much every TL meeting over the past 25+ years and, at my older age, one of my thoughts is "Oh, these poor dears. They have so much on their plates." And then I wonder "Is it normal for them to feel such pain? I certainly don't!"
And yet, this past weekend when cleaning out a closet, I found a couple of old journals from my corporate marketing days back in Chicago and from the first years of opening this spa. Boy, were they FILLED with challenges, heartaches, complications, pain.
I realize today that much of my peace is not only due to my spiritual connections, my sobriety, my focus on gratitude – yes, these things are critical – but the reality is, at nearly 69, my life is relatively calm. Especially living alone, with many people surrounding me to help with complications -- an incredible Spa Director and other great leaders here, a wonderful helper at my tiny ranch, and my family of choice, my dear friends – all combine to make my life pretty darned easy. I'm not raising children, building a career, having marital or relationship struggles. So, I've readjusted my thinking and like hundreds of times before, my compassion and understanding are kicked into gear. I cannot truly know what others are dealing with and so my job is to accept and give everyone the benefit of the doubt.
We just had the most spectacular October weather up here. Glorious!!! And then it came to a screeching halt with snow and five degree temps this past weekend. Here we go, winter! Once again, my job is to accept and love every part of winter including the upcoming hectic holiday time.
I hope you will join me in focusing on acceptance and understanding. The world can certainly use a bit more, especially now!
Gail Sharp is the owner of TallGrass Spa and Salon. Email her at sharpgail@aol.com .