Message from Gail Sharp
July 2023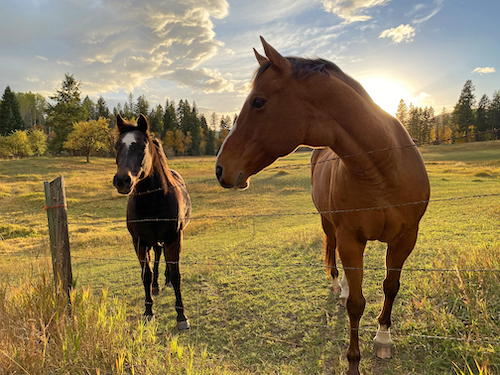 I am so fortunate to have been introduced to an incredible, hardworking, honest, trustworthy man who helps me (in truth, he pretty much does it all) keep my tiny ranch property and my animals beautiful and healthy.
At half my age, he is very wise. One of his often-repeated statements is "People are different." Usually, this comment is in reference to how different horse owners he works for have widely varying opinions on the proper care and treatment of their animals…and gardens, grass, fences, barns, and so on. The latest topic is how to protect your horse from biting flies, which are unusually bad this year with the extra rain we've received and now the heat.
I must admit that I sometimes find myself fiercely arguing my opinions. Do I really know for sure that what I'm saying is verifiably true? Or, am I spurting out thoughts based on one article, a couple of passing comments, a social media post, a segment on the news? Thankfully, another benefit of aging is I can actually restrain my tongue for a minute or two while I consider opinions of others. Often, I adjust my own perspective a bit which is always beneficial. Meeting in the middle on a variety of topics would certainly help our world – especially now with such polarization. Hmmmm…could I be growing up?
Two fun events for grown-ups and kids are in my immediate future. Both are sure to please young and old and give everyone the opportunity to hang out with animals. One is at my ranch on July 15, when Wild Aware, an organization that supports the co-existence of humans and wildlife, is having a family fun day fundraiser, featuring activities with ranch animals. You can check it out here. The following week, on July 22, our annual Dog Wash event at Ambary Gardens benefits Evergreen Animal Protective League. It's loads of soapy, splashy, picture-taking fun and I hope to see you there!
A reminder for your next visit: The Evergreen Lake North Trail Project is underway and continues through the end of August. Please refer to these detour instructions and allow extra time to get to the spa.
Gail Sharp is the owner of TallGrass Spa and Salon. Email her at sharpgail@aol.com .