Message from Gail Sharp
June 2023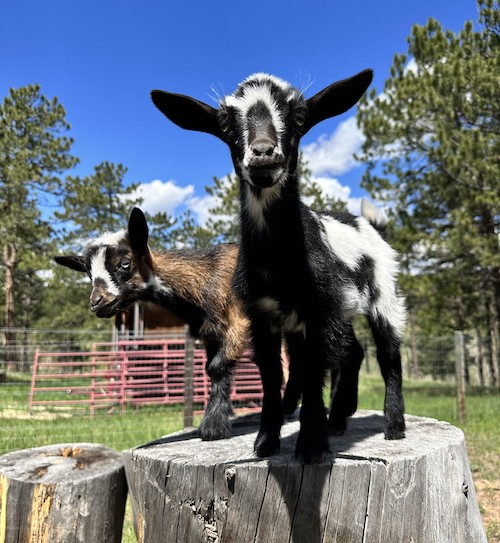 Meet Benjy and Walter. Two new additions to my Lucky Penny menagerie. Nope, not cows, but adorable and lovable for sure!
The gang here at my little ranch sometimes changes, and comings are always easier than goings. A neighbor's mare had a little filly last week and we witnessed the first time she was let out of her stall. Watching her run next to her mom was so special. I teared up with joy. Yesss!!!
I've experienced some departures lately. Two women-owned small businesses closed in our area - a wonderful flower shop and our local tack and feed store. Both women worked hard and did an amazing job of supplying our community with beautiful, useful items. We will miss them, and I'm reminded how hard it is for a small business to continue. So many long, stressful hours! I send best wishes for their future successes.
We've also felt the loss at TallGrass of two of our long-term veterans - Heather and Jessi. Each was part of our TG family for over 20 years. One is starting her own business in Denver, and one moved to be with family. While we will miss them, I'm certain they will be happy in the future. Their work ethic, focus on joy, and excellence will ensure it.
Also leaving us, due to a move south, is one of our dearest long-term guests. This woman brought joy to us all for years and years. Though she's an incredibly wealthy, highly educated, brilliant attorney, she has been consistently kind, unassuming, sweet, and gracious to each and every team member. No one would ever have known she could buy TallGrass and all of us in it 10 times over. I really admire and respect that attitude in anyone and especially in someone who could possibly be arrogant or demanding.
Life moves on. We say hello and we say goodbye. I believe the best we can do is enjoy each moment we share and know that nothing stays the same. That can sound depressing, but would we really want a life where every day was exactly the same? I think not!
I hope that, as our season changes into a beautiful summer, you can accept and adjust to the comings and goings with peace and joy. And, of course, if changes bring any stress, we are happy to help you relax right here in our beautiful TallGrass valley.
A reminder for your next visit: The Evergreen Lake North Trail Project is underway and continues through the end of August. Please refer to these detour instructions and allow extra time to get to the spa.
Gail Sharp is the owner of TallGrass Spa and Salon. Email her at sharpgail@aol.com .
June Products of the Month are Facial Serums!
From Eminence, we're featuring Rosehip Triple C+E, a treatment that provides intense hydration and protection; Marine Flower Peptide, a potent gel that helps diminish the appearance of fine lies and wrinkles; Kombucha Microbiome Luminosity, designed to give you a vibrant-looking glow; and Citrus & Kale Potent C+E, packed with anti-oxidants to brighten skin. And, from the jane iredale collection, we offer Beauty Prep, a lightweight serum that locks in moisture as it smooths, softens, and brightens skin.
Ask your TallGrass esthetician which serum is best for you and then enjoy a 20% savings in June.