Message from Gail Sharp
December 2022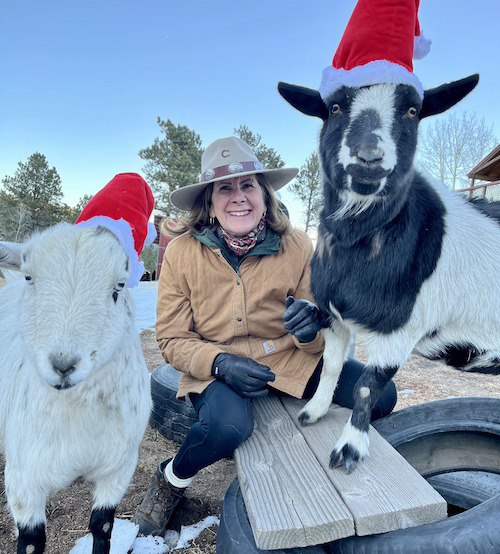 Today, when I was reading my morning meditation for November 30, my first thought was "Good! One month down on winter!" I'm getting too old to be grateful about time passing by. It's too precious!
It's interesting how perspectives change from expecting an unlimited amount of time to experience everything life has to offer to cherishing each day – each moment – not taking time for granted. Even now, in my least favorite season! Winter offers me more time for reflection, catching up on indoor activities I've been avoiding (yes, filing, office clean up), organizing closets, riding my horse in my arena (what a luxury!), and most importantly, focusing on others – writing cards, making calls, donating to food banks, scheduling time together even for just a cup of coffee or a zoom connection. During really challenging times, I can wish time would go faster, or I can look for the gifts hidden inside tough moments.
I have a dear friend with a serious diagnosis who inspires me by enjoying each day and not focusing on setbacks or fear. Being around her reminds me to soak up the joy of sitting on a log at a neighborhood pond, or driving along Upper Bear with the creek frozen and trees sparkly with snow, or watching my dogs run ahead as we ride our horses.
So, my plan is to say "No" to those hurry-up-and be-over thoughts and slow down to appreciate each moment of this 2022 holiday season. As for winter, I'll keep trying! 😊
For certain, I will appreciate my friends – especially all of you, our TallGrass guests and employees. Together, we create the magic of relaxation, joy, inspiration, and love. Thank you for sharing yourselves with us. I hope your holidays and the year ahead are filled with health and peace!
Gail Sharp is the owner of TallGrass Spa and Salon. Email her at sharpgail@aol.com.