Message from Gail Sharp
November 2021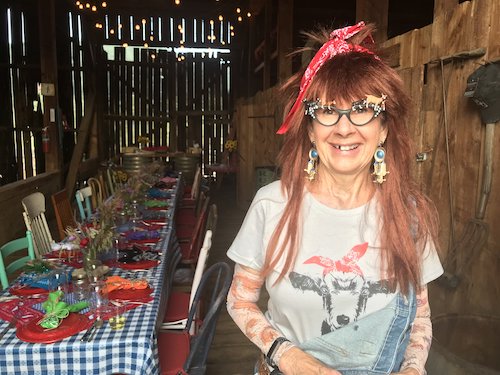 Life can be so serious. Heartbreaks, losses, challenges, setbacks. We've all experienced these tough, grim, heart-rending times.
So, whenever possible, I choose to bring silliness into the world. That's why I actually have a closet full of costumes. And, they aren't just for Halloween either! Theme parties, murder mystery games, or just wearing something fun and laughable for any occasion is when I pull out one of these outfits. My dear friend, Kimra, a perfect example of a joyful soul, can often be seen wearing boas and high-topped red sneakers at her corporate job or bringing silly toys and games to office parties, kazoos to events, and costumes to the airport. Some people may shake their heads and think "it's too crazy" but, all in all, it's just escapist fun that brightens everyone's day.
Coming up this month, we'll be joyful and full of smiles at two TallGrass events. On Nov 12, we'll be stuffing string backpacks with personal care items for homeless veterans. Then, on Nov 18, we're hosting the annual TallGrass holiday event; it's the very best time of the year for savings on products and gift certificates.
We can all use some light-hearted joy, especially during the upcoming - and potentially stressful - holidays. So, let's everyone bring some silly spirit into the world!
Gail Sharp is the owner of TallGrass Spa and Salon. Email her at sharpgail@aol.com.