Message from Gail Sharp
August 2021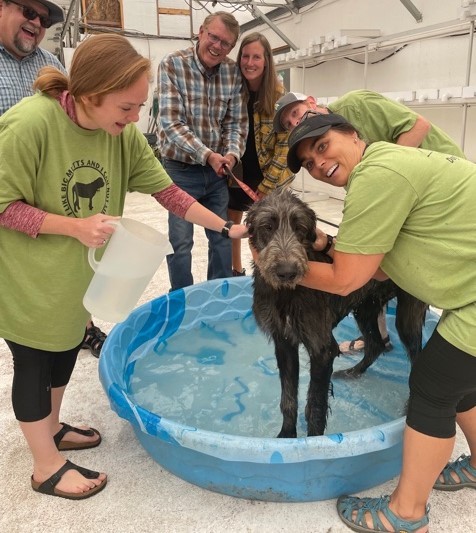 I've written before about what little volunteer work I did for the first 40 years of my life. Back then, it was all about work and time with family and friends. Which was just fine. But, now that building my careers (first advertising sales and now spa ownership) are over or well established, I have time for the true joy of participating with others in charitable undertakings.
Yesterday, our TallGrass Dog Wash fundraiser – one of my particular favorites – benefitted Evergreen Animal Protective League. Our spa's awesome CBD supplier, Ambary Gardens, graciously hosted the event at its Kittredge location, a new venue for us this year. Ambary rolled out the red carpet with a perfect covered area for washing and drying, along with tables and chairs for listening to music, relaxing, and watching the fun. They served CBD-infused fruit water, too.
Volunteers galore from TallGrass, Ambary, EAPL, National Charity League, and the foothills community welcomed dogs and their humans as they arrived nearly non-stop for five hours. It was GLORIOUS!!!
Numbers haven't been tabulated yet, but I'm certain we washed over 50 dogs, each receiving a special bandana and a photo op – complete with doggie costumes – at our TallGrass Photo Booth. It was a fun, joyful way to support a worthy organization, and we owe many thanks to TallGrass's Michele and her husband Jeff, everyone at Ambary, all the folks who volunteered, and those who brought their dogs to be washed.
I encourage you to include the joy of volunteering in your life. I guarantee it will bring inspiration and satisfaction, and it will make a difference in your world!
P.S. Our next volunteer event is the JOY International Barefoot Mile Walk on August 21 in Evergreen. Walk with us or sponsor us with your donation. Details are here.
Gail Sharp is the owner of TallGrass Spa and Salon. Email her at sharpgail@aol.com .