---


Rikki
2-1/2 yrs old, 15 lbs
A real love bug who wants to be with people, likes to go for rides, good with other dogs and okay with cats, best with children over 10

Available for adoption at
Evergreen Animal Protective League
www.EAPL.com
---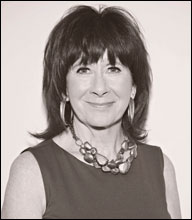 Ho! Ho! Ho! 'Tis the season of giving.

Back in the days of my wild corporate life in Chicago, I was much more focused on getting. I grew up as an only child and I'm not proud to say that I was pretty selfish. That didn't change much in my early years. Getting money, promotions, cars and stuff was what I thought was important. And, since I never married or had kids, I wasn't exposed to caring for my own family.

Then, life turned upside down when I moved to Evergreen and started TallGrass. Our incredible team, my new generous friends, and the entire involved community taught me what it meant to give. Joining a local Rotary group and other non-profit organizations has hard-wired this amazing feeling of giving into my life. So, I'm all for it.

However, I've noticed in the 16 years of talking with the many women who have visited TallGrass, very few have a problem with giving. It's receiving that's tough. Many women take on the role of caregiver to husbands and children and then the rest of their family and their friends, and volunteer organizations, and on and on. And, they feel uncomfortable — even a bit guilty — to get. This season, in the midst of giving and caring and loving others, please take some time to receive attention and care and even gifts for yourself. Remember, the giver has a chance to feel that warm, rewarding feeling of giving to YOU!

By the way, one of my favorite lines in all of the Christmas carols is: "And when we're worried and we can't sleep, we'll count our blessings instead of sheep, and we'll fall asleep counting our blessings." What a great practice. Blessings to you and your family and thank you for another wonderful year of friendship.



Gift Cards and Gift Sets for the Holidays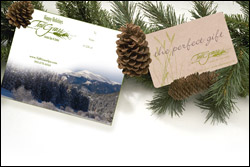 Like we always say...Gift cards and gift certificates from TallGrass make you a gift giving superstar because they come with the promise of a perfect day to recharge, rebuild and relax. Easy to purchase online and available in any amount, you can choose from instantly printable gift certificates in a host of holiday designs or order traditional gift cards that come beautifully wrapped with tall grasses. Either way, we know your recipients will be pleased.

When you include Aveda limited edition holiday gift sets with your gift cards and certificates, your presents are doubly appreciated. The sets come in combinations of everyone's favorite Aveda products and, because they are wrapped in hand-crafted paper made by villagers in Nepal, your purchases support Himalayan forest communities. Choose sets ranging from $15 to $49 (priced less than what the products would cost if purchased individually) that include Hand Relief and Foot Relief combos, collections of hair care products, soy wax candles, lip shines and more. Visit the Aveda website for descriptions of the gift sets and then stop in at our retail department to make your purchases.



Claudia O'Donnell
November-December 2011 Spa Babe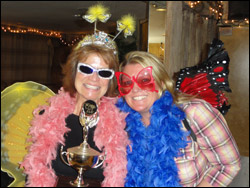 Anyone who needs a helping hand at TallGrass can always rely on Claudia O'Donnell. "Might as well keep jamming," she says. "No use in sitting around." And, that pretty much sums up the reason for Claudia's selection as spa babe, an honor bestowed on her by the management team.

With that kind of energy, Claudia's days are full. She works in the retail department and assists in the boutique. You'll also find her at the makeup stations helping guests with the latest looks and lending a hand in the catering kitchen. And, she was involved in Operation Healing Wheels when TallGrass teams decorated bikes for donation to the Mountain Peace Shelter in Bailey. Claudia worked on the princess themed bike, helped construct a playhouse castle and, dressed like a princess herself, presented her team's creation at a recent staff meeting. Later, at the shelter, the response from one little girl was to grab onto the princess bike and not let go. And, soon after, all the little girls at the shelter were playing with Barbies in the castle. "Emotionally, that was a real hit for me," says Claudia. "It gave me chills to feel so good."

Claudia is an empty nester. Her son performs music in Los Angeles and her daughter is a ski instructor here in Colorado. That leaves plenty of time to spend with her husband on hiking, kayaking and snowshoeing expeditions. "I don't sit down very much. I was never good at that."

Claudia is pictured here with Spa Director Susie Siebert.